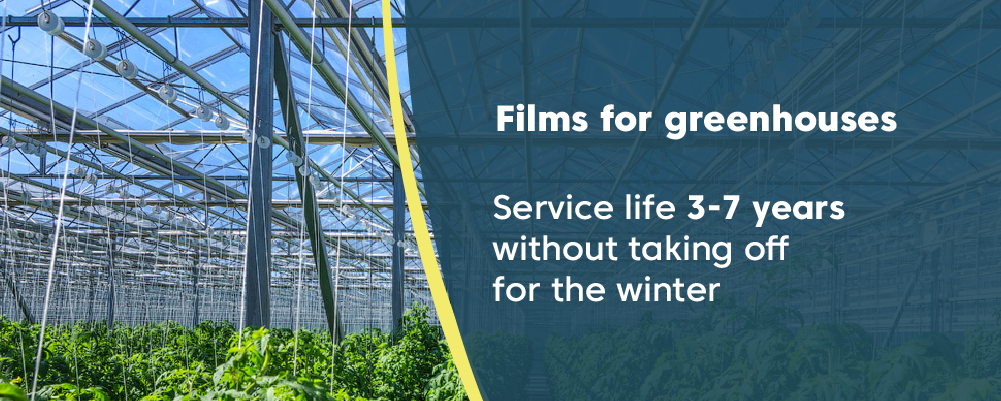 Film for greenhouses with a service lifespan from 3 to 7 years without removal for the winter!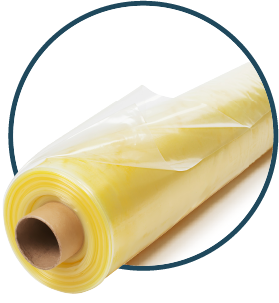 Why choose our products?
Increased strength.

The film retains heat, so heating costs are reduced.

More light gets into the greenhouse.

The harvest under the film is bigger and betterе.

The crop ripens up to 2 weeks earlier than under polycarbonate.

No need to take it off for the winter.

All our products are covered by a warranty.

If necessary, we produce a film of the required sizes with the specified properties to order.
Greenhouse films from NPF "Shar":
Film

Thickness, µm

Width, m

Service life

Manufacturing material

UV stabilizer

Strength,
mPa

Light transmission in the PAR area, %

Light diffusion, %

100-200

3, 4, 6 and 8

7 years

EVA

+

30

92

20

100-200

3, 4, 6 and 8

7 years

EVA

+

30

56

50

SVETLITSA™ LIGHT DIFFUSING

100-200

3, 4, 6 and 8

7 years

EVA

+

30

92

25

100-200

3, 4, 6, 7, 8 and 12

5 years

mLLDPE

+

26

91

20

100-200

3, 4, 6, 7 and 8

5 years

mLLDPE

+

26

56

55

100-200

3, 6, 7 and 8

3 years

LLDPE

+

23

90

20
| | |
| --- | --- |
| Наши специалисты ответят на любой интересующий вопрос по услуге | |
Why is the greenhouse film more effective than other materials?
Perennial greenhouse film is superior to other covering materials:
perennial films are more environmentally friendly: they do not need to be replaced every year, which reduces the potential danger to the environment;

the high-quality film has high strength of up to 30 MPa;

the manufacturer of long-term films uses specific additives that form particular properties: hydrophilicity, resistance to pesticides, light reflection, and others;
the film is always cheaper than polycarbonate or glass.
12 reasons to buy a multilayer film for greenhouses from NPF "Shar"
Multilayer film for greenhouses of our production is suitable for single-pitched, double-pitched, domed, arched, and other structures.
Our film materials are cheaper than imported analogs or polycarbonate.
To cover greenhouses, you do not need to resort to the services of specialists. It is easy to stretch the film on your own.
Quick replacement of damaged areas
No one is immune from force majeure, but this is not a reason to worry: if necessary, individual blocks can be easily restored or completely replaced.
A distinctive feature of our films.
Service life of 3, 5, and 7 years
Perennial films are not a myth. See for yourself!
The multilayer film coating has been successfully tested in the northern regions of the Russian Federation. This means that you can forget about dismantling for the winter season.
No restrictions on climate zones
The film for greenhouses and hothouses has been successfully tested at low and high-temperature conditions.
Strict quality control is carried out. All materials used comply with environmental standards.
Any parameters depending on the issue
The film for greenhouses from the manufacturer is produced in different thicknesses (from 100 to 200 microns), and the width varies from 3 to 12 meters.
Flexible system of discounts for regular customers: the more you buy, the more profitable it becomes to work with us!
We value the reputation of the company
It is important that the customer is happy with the quality of our multi-layered perennial films for greenhouses.
NPF "Shar" offers a film for greenhouses and hothouses from the manufacturer, designed to grow vegetables, fruit, and berry crops.
Regions of use of greenhouse perennial films
Perennial films for greenhouses and hothouses SVETLITSA™ (7 years), film SVETLITSA™ LIGHT REFLECTIVE (7 years), as well as greenhouse polyethylene films NEVA(3 years), NEVA Premium (5 years) и NEVA Premium LIGHT REFLECTIVE(5 years) can be used in regions with different climates.
Due to the properties of the film material and the optimal content of particular additives that protect the films from premature destruction under the influence of the sun, frost, good wind resistance, and strength to hail, our films serve equally long in a variety of conditions. SVETLITSA film and our other films are used by agro-industrial complexes in the southern regions, such as the Republic of Dagestan, Krasnodar and Krasnodar march, Belgorod, and in the central regions of Russia - Moscow, Moscow Region, Voronezh, and in the harsh climate of Krasnoyarsk, Krasnoyarsk march, the Far East and many others.
How to buy a greenhouse film?
To purchase a greenhouse film in St. Petersburg or make a purchase with delivery to the regions, you can place an order on the website or call the office. You can also buy it in the regions from our dealers and partner stores.

Be always up to date!
Be the first to know about discounts and promotions