SVETLITSA ™ GROUND film with perforations
Quick view

Vendor code: МЧп-60-1,2п-400

The unique development of NPF "SHAR" mulching film SVETLITSA ™ GROUND with perforation is a reliable material, which stands out for its strength and durability and can cope with its task even in the most difficult climatic conditions.

| | |
| --- | --- |
| Бренд | СВЕТЛИЦА ™ |
| Colour | Black |
| Type | Roll |
| Material | EVA - copolymer |
| Width | 1,2 m (canvas) |
| Length | 400 m |
| Thickness | 60 μm |
| Weight | 27 kg |
| Area | 480 m2 |
Quick view

Vendor code: МЧп-60-1,3п-400

The unique development of NPF "SHAR" mulching film SVETLITSA ™ GROUND with perforation is a reliable material, which stands out for its strength and durability and can cope with its task even in the most difficult climatic conditions.

| | |
| --- | --- |
| Бренд | СВЕТЛИЦА ™ |
| Colour | Black |
| Type | Roll |
| Material | EVA - copolymer |
| Width | 1,3 m (canvas) |
| Length | 400 m |
| Thickness | 60 μm |
| Weight | 29,4 kg |
| Area | 520 m2 |
Quick view

Vendor code: МЧп-60-1,4п-400

The unique development of NPF "SHAR" mulching film SVETLITSA ™ GROUND with perforation is a reliable material, which stands out for its strength and durability and can cope with its task even in the most difficult climatic conditions.

| | |
| --- | --- |
| Бренд | СВЕТЛИЦА ™ |
| Colour | Black |
| Type | Roll |
| Material | EVA - copolymer |
| Width | 1,4 m (canvas) |
| Length | 400 m |
| Thickness | 60 μm |
| Weight | 31,6 kg |
| Area | 560 m2 |
SVETLITSA ™ GROUND mulching film with perforations is designed to cover the soil. The film favors plant growth and protects ripe fruits and berries from touching the soil. SVETLITSA ™ GROUND also eliminates the problem of weeds.
Main properties of SVETLITSA ™ GROUND perforated mulch film:
• perforation at a distance of 270x300 mm;
• bore diameter 50 mm;
• service life of at least 5 years;
• эластичная;
• high-strength;
• 0% light transmission;
• frostproof (- 80 °С);
• weed control.
Application of SVETLITSA ™ GROUND perforated mulch film
The experience of agroindustrial complexes confirms the successful use of mulch films with perforation for growing:
• strawberries;
• vegetable and green crops;
• flowers (roses, chrysanthemums, etc.);
• fruit, berries and other crops.
Plants develop more actively under the SVETLITSA ™ GROUND film. The film maintains the temperature regime in the soil, retains moisture, creates a greenhouse effect, and promotes intensive development of the root system. And most importantly: manual weeding is eliminated.
Using SVETLITSA ™ GROUND films for mulching allows to:
• accelerate soil warming and emergence of seedlings in early spring;
• stimulate plant growth and development;
• improve crop yields;
• increase the content of vitamins and trace elements in the crops;
• accelerate the maturation of crops;
• protect the soil from drying out;
• reduce fertilizer use.
Why perforate SVETLITSA ™ GROUND film?
Perforated film is a film with specially prepared holes in it. These holes are located at a distance of 30 cm in length and 27 cm in width. Space is calculated especially for the shrinkage of strawberries and other fruit plants. The diameter of the holes is 5 cm.
Scheme of perforation on the mulch film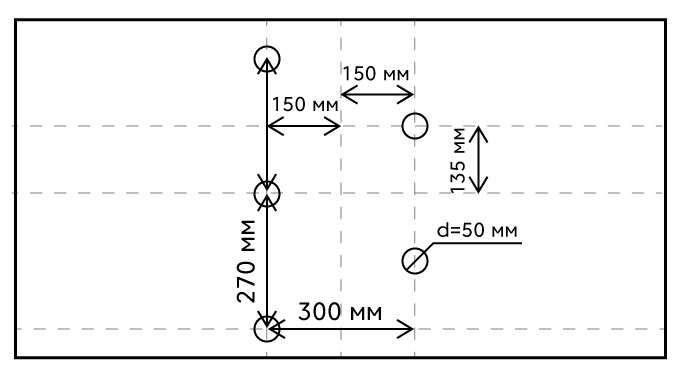 Purchase SVETLITSA ™ GROUND perforated film in the regions from our
dealers and partner stores
.
Be always up to date!
Be the first to know about discounts and promotions