Calculation of the film for the pond
Scheme of the pond arrangement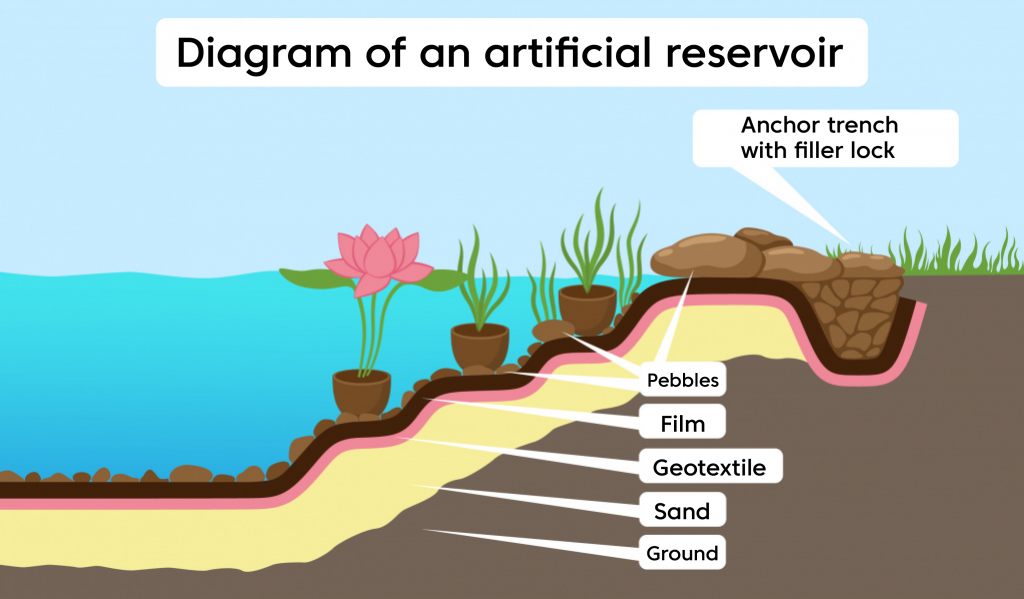 Waterproofing - a set of works to protect structures from moisture.
Depending on the task, choose a particular method and material. For example, for many waterproofing jobs, a polymer film is used. It acts as a barrier to moisture penetration.
Sometimes manufacturers call their products a membrane to convince the buyer that it is some new material with special properties. However, the word "membrane" in Latin means "shell, skin, film. That is, the name "membrane" does not guarantee anything. We need to pay attention to the properties of the material.
The following properties are important for the film used as waterproofing:
Waterproof;

Resistance to UV radiation;

Resistant to temperature fluctuations;

Puncture resistance;

Tensile strength;

Elasticity.
Note that waterproofing film materials with special properties are vapor and windproofing, anti-condensate, and others. Therefore, choose the material according to the specific task.
Particularly durable copolymer films for waterproofing of our production are used in the construction of:
foundations;

basements;

floors;

roofing;

sludge reservoirs and sumps;

various bodies of water, including ponds and swimming pools.
Be always up to date!
Be the first to know about discounts and promotions